So it's been a while since I've posted anything on here; figured I'd pull my weight instead of just lifting them all the time :P.
March is a massive month for releases and what-not; too many for me to even remember. We all saw the drop of Camo & Krooked's above and beyond (released on Mainframe Recordings) which was pretty decent, but as I've found out quite a lot most full album releases they only have a few good quality tunes on them; i.e sub focus, half the tunes were a let down in my opinion. As you all know we do love a bit of
Camo & Krooked
on TMH, I've posted
Get Funky
,
Global Warming, No Soul
as well as Camo's
Lost Heaven
(of which a VIP by the deadly duo can be found on their new album; which can be bought
here
or
here
)
Personally I think Walk on Air, Tonight and Only Me are the best tracks on the new album.
You want a free tune right? Well I'm not gonna give you one that's on their new album, it's worth buying despite my minor criticism.
This one's called Older Than Yesterday; it's an uplifting song which I think is top notch!
[320]
If you want loads of free fidget / electro tunes I highly suggest you check out Mustard Pimps soundcloud at
http://soundcloud.com/mustard-pimp
, I would definately download Partyshank - Virgin (Mustard Pimp Remix), Beetle Gum, Ohh La La Satan, RER C (Versailles Rive Gauche Edit) to name a few, and yes these are
FREE!
and most of them are at 320kbps. We do like a bit of Mustard Pimp on TMH as well as Blatta & Inesha, there's a post of their collaboration called Pigeon Flu which can be found
here
.
Whilst talking about Blatta & Inesha I came across a couple of remixes of theirs the other day which are pretty good. Already posted one song by them, the post can be found
here
.
I've got 2 remixes by them;
- Urchins Feat Spoek - Tickets (Blatta & Inesha Remix)
[320]
- Wiesel & Captin Koma - Die Polizei (Blatta & Inesha Remix)
[320]
Maybe one day we'll make it to Italy to see them and all the other Italian fidget heads; e.g. Belzebass, Gigi Barocco and Crookers to name a couple. Check out the sidechain massacre for some nice underground fidget artists
here
.
Stepping away from fidget and back into the line light that is Drum & Bass we have Spor. He's got a new EP out on Lifted Records released on 24/02/2010 for digital users and comes out on 12/04/2010 for those vinyl lovers out there. It's called conquerors and commoners. All 4 tracks on the EP are absolutely banging! My favourite track is called Halogen.
Let's also talk about the weekend I've got planned while I'm still here. Tomorrow is Friday and I'm making the long journey to Exeter to see Scratch Perverts, Jack Beats, Utah Saints and Reso. Here is a flyer for the event: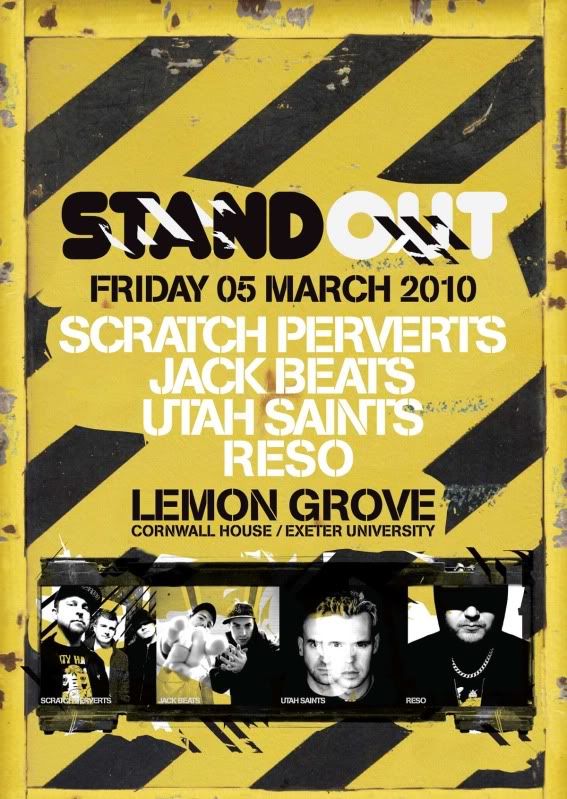 The only shit thing about it is that it is from 9pm till 2am, which is not what I'm used to when going out in London, but hey at least I get to have some nice West country cider ;). Check out Jack Beats' essential mix which was made a couple of weeks ago, pretty good stuff!
Then on Saturday Jongles and myself are heading upto Plymouth in order to see Cyantific (who is going to have a 3 deck setup!) and Sigma. It's in a small(ish) club with a 12k soundsystem. Lots to look forward to so no doubt I'll be taking my ear plugs for this weekend away.
That's all for now, see you Gs next week!